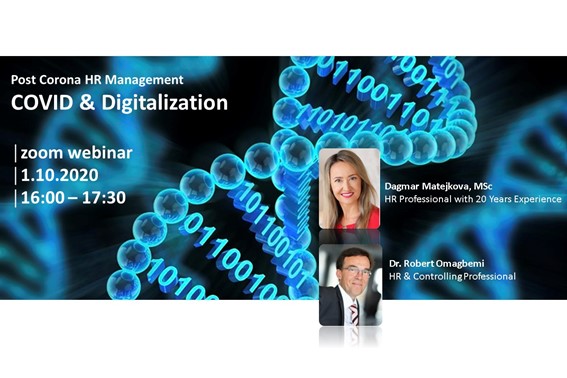 Dear all,
we would like to invite you to the Zoom webinar to discuss the challenge and potentials for HR, and in addition to inspire and learn from each other.
The current topics are:
|COVID & Digitalization | 1.10. 2020 at 16:00 – 17:30 | English language
Speakers:
|Dr. Robert Omagbemi | HR&Controlling professional with more than 25 years of experience in HR, finance and IT transition projects.
|Dagmar Matejkova, MSc | HR professional with 20 years' experience in global and local environment and crisis management.
COVID, The Next Normal & Digitalization
The world of work is changing. Artificial intelligence, automation, and robotics will make the process of digitalization in our industries worldwide as significant as the mechanization in prior generations of agriculture and manufacturing - and COVID adds acceleration to the Digital Transformation of our Businesses.
COVID-Crisis has already changed the expectations of our customers. Managers & Employees experienced limitations to communication & collaboration due to a lack of digitalization readiness in our organizations.
Digitalization is a challenge that must be taken seriously, especially for HR as the main supporter of speed, agility, and quality assurance in corporate organizations.
HR therefore must play a Key Role in establishing a digital DNA and digitalize itself, as it takes cross-functional roles throughout nearly all business processes as tied to people.
COVID Crisis adds acceleration to the digital transformation of our daily business. But what does this really means (exactly) for HR?
How would do the Role of HR change in the context of digitalization?

What do we need to support the recent changes in our Organization?

How can we best utilize the future chance to innovate, standardize, simplify, and harmonize HR-processes?

What will be the impact of digitalization on our employees and to the leadership?
We look forward to your active participation.
Petr, Dagmar, Robert & GiVE team